The stunning coastline of County Clare in Ireland boasts some fabulous beaches which appeal to everyone from walkers to swimmers, surfers and families. We love exploring Clare and its wonderful beaches. With sweeping strands and towering sand dunes, surf schools and natural swimming holes, these are our 9 favorite beaches in Clare, Ireland.
1 | Fanore Beach
Best beach in Clare for: surfers, walkers, beach days
In the heart of the Burren, the seaside village of Fanore is home to one of most popular beaches in Clare. Sheltered beneath 5,000-year-old sand dunes, the sandy beach attracts large crowds of day trippers and the Atlantic swells make it a popular choice with surfers – there's even a surf school on site if you want to take some lessons.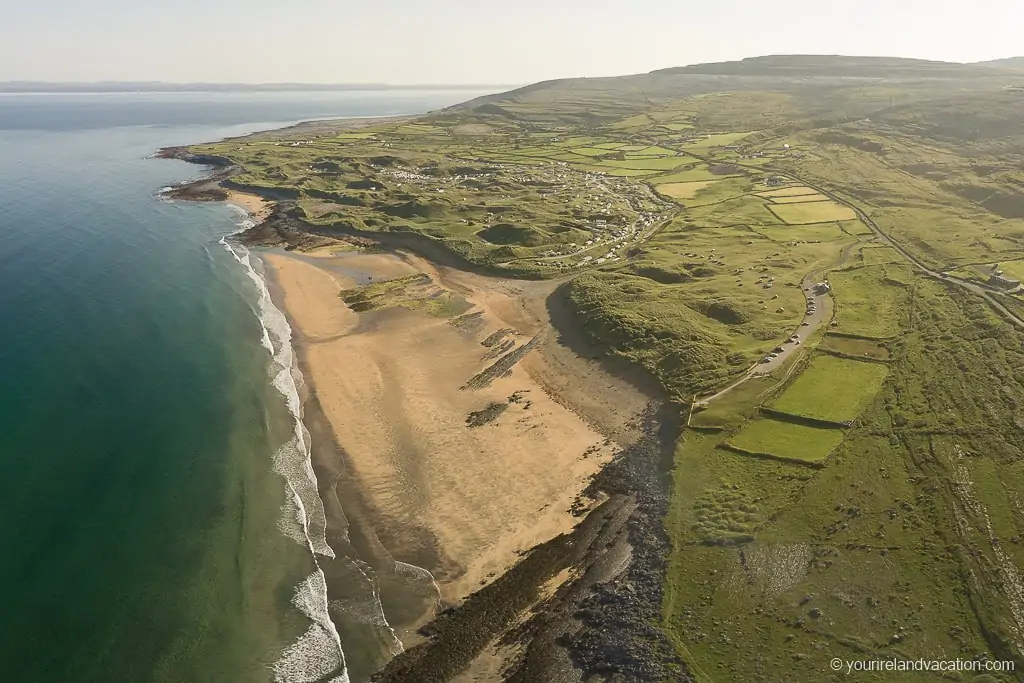 Fanore Beach is a blue flag beach and has plenty of parking as well as public restroom facilities and an outdoor shower (our toddlers refer to Fanore as the 'Shower Beach' when they want to visit!). There's even a campground on site if you want to spend the night.
Best beaches in Clare tip: there are lifeguards on duty at Fanore during the summer months. Check the beach noticeboard for further information.
2 | Flaggy Shore
Best beach in Clare for: literary fans, coast walks and families with younger kids
Stretching from New Quay to Finavarra Point, Flaggy Shore is a beautiful stretch of coastline on the Wild Atlantic Way. The rocky stretch of coast is a stunning meeting point of the Atlantic Ocean and the barren Burren Landscape and there are beautiful views stretching across to Galway Bay. The small beach is great for younger kids to splash around and it is one of our toddlers' favorite stops in North Clare.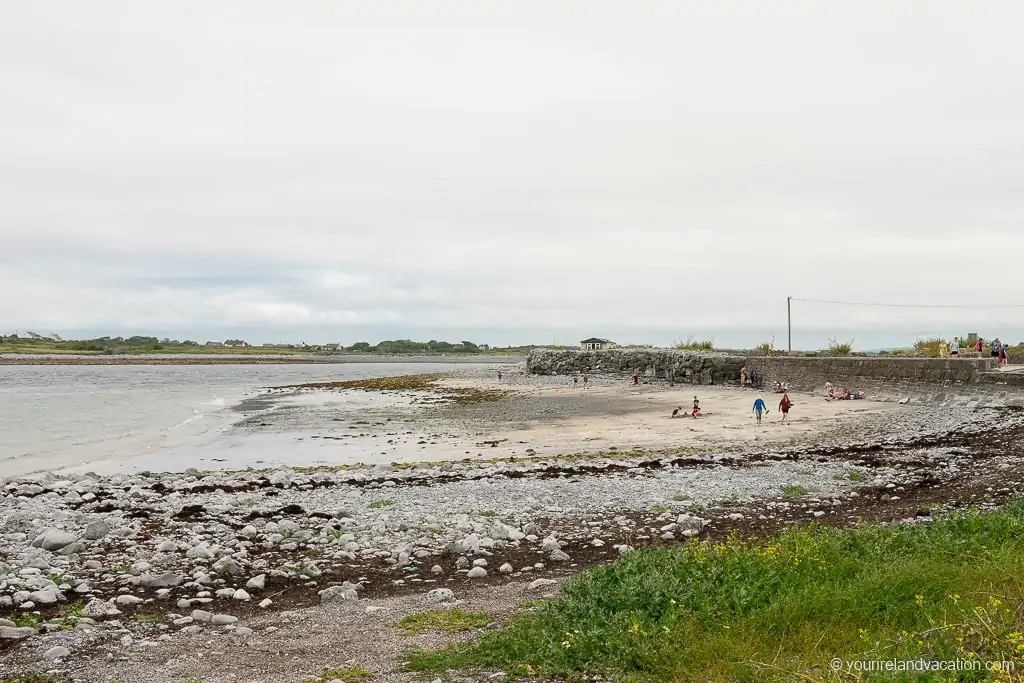 Flaggy Shore is home to limestone pavements and fossils dating back millions of years. It has provided literary inspiration to many: one of the most remarkable is Seamus Heaney, a renowned Irish poet, who directed visitors to Flaggy Shore in his poem Postscript 'And some time make the time to drive out west/ Into County Clare, along the Flaggy Shore'.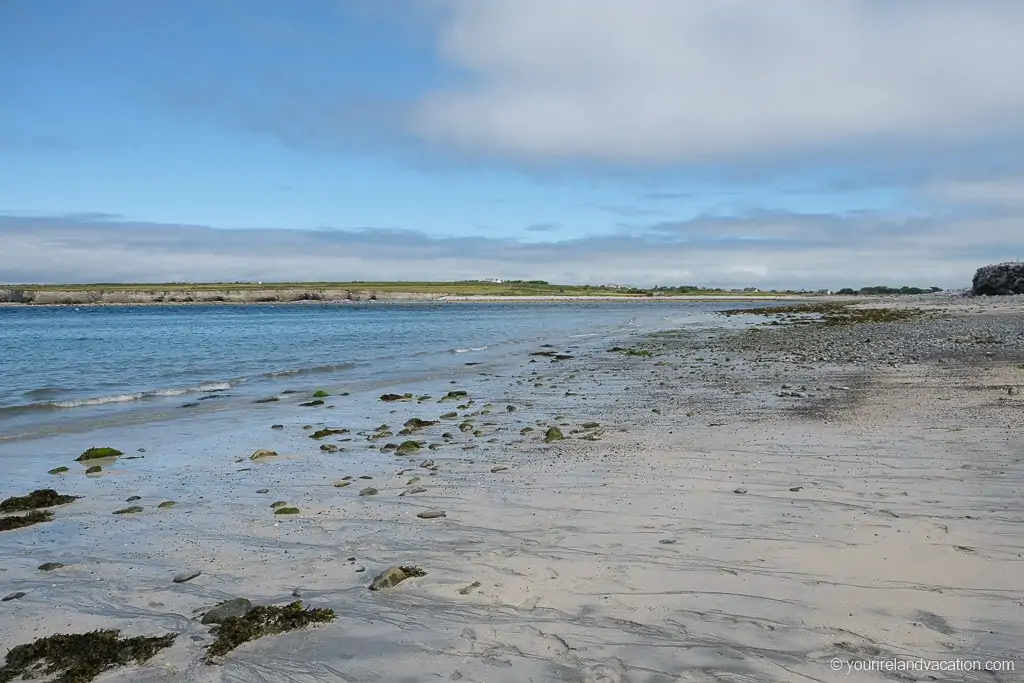 Best Beaches in Clare tip: If you are in the mood for a coast walk, then head west along the coastline towards the historic Martello Tower. We spent about 90 minutes walking out and back and, on the return, we took a short detour to Cafe Linalla, an awesome little ice cream parlor with homemade ice cream and a small playground for kids. The wonderful Linnane's Lobster Bar is just a few minutes east of Flaggy Shore and, with a new food truck out front, is a fantastic option for a casual lunch or dinner – we loved the fish and chips!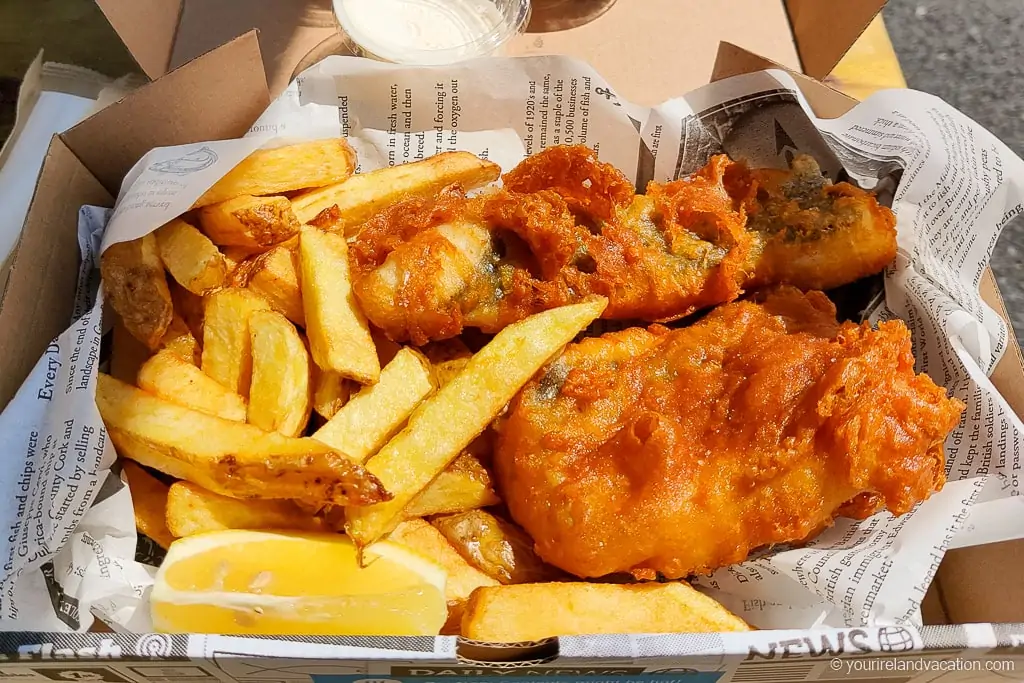 3 | Lahinch Beach
Best beach in Clare for: surfers, seaside resort vibes
Located adjacent to the lively beach town of Lahinch, Lahinch Beach is a large stretch of sandy beach popular with families and surfers and kite surfers in search of good waves.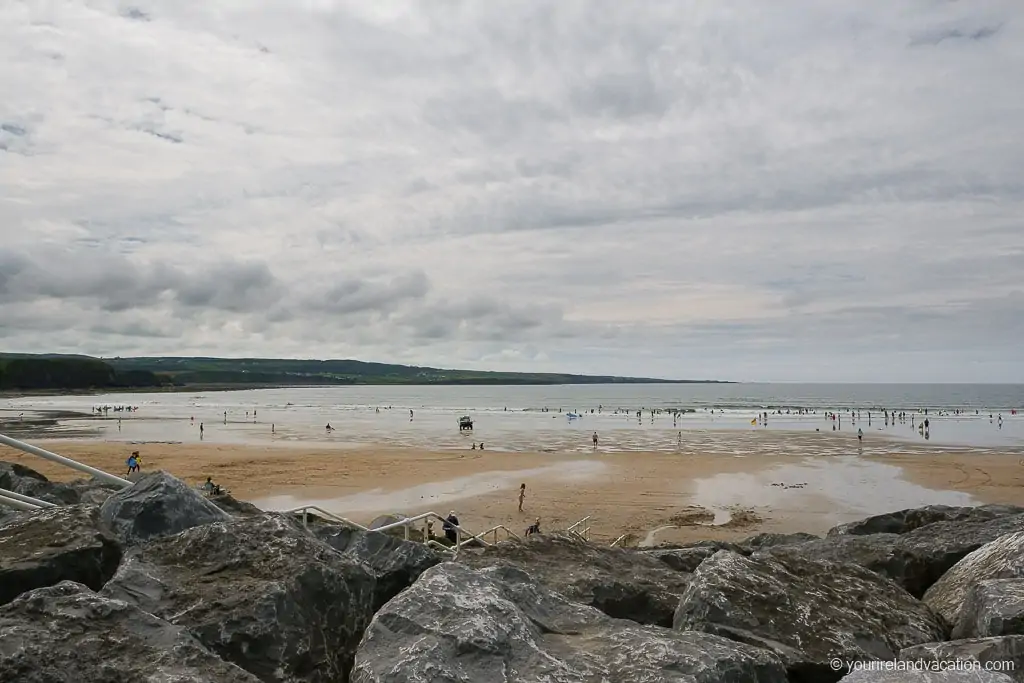 At high tide the beach all but disappears but, at low tide, the sandy beach stretches as far as the eye can see. If the tide is in, you can take a walk along the prom overlooking the beach.
There is a large car park adjacent to the beach and, although it can be hard to get a spot at busy times, you should be able to grab one if you persevere. Other facilities include public rest rooms and a surf school. Food and drink options are a plenty with the beach located in the heart of the village.
Best beaches in Clare tip: there are lifeguards on duty at Lahinch Beach during the summer months. Check the beach noticeboard for further information.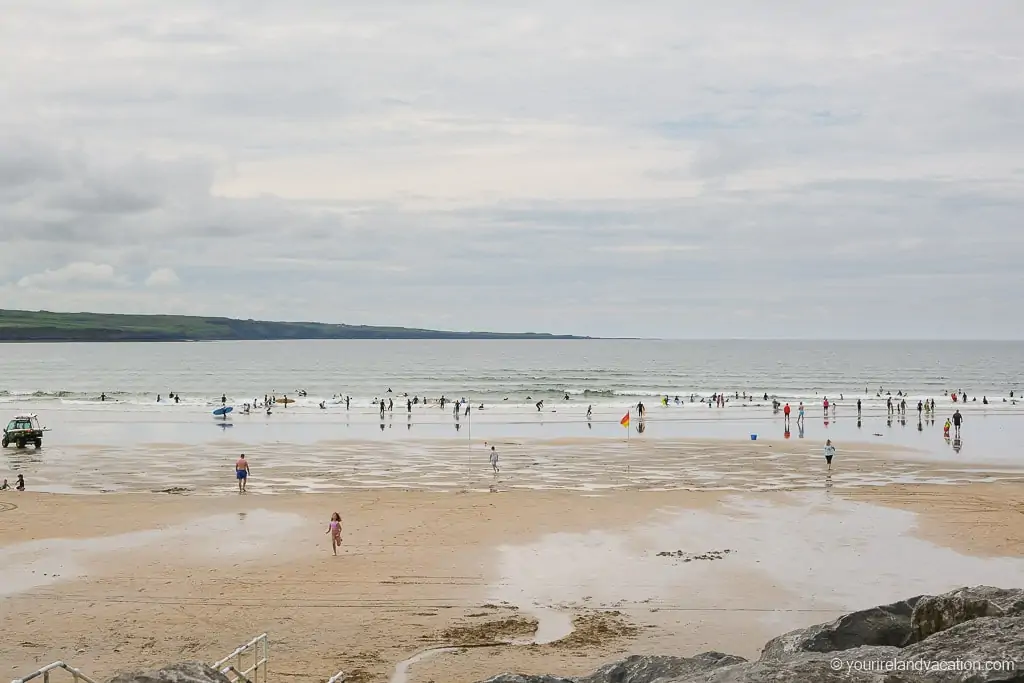 4 | Doughmore Bay (Doonbeg)
Best Clare beach for: beach walks, horse riding, dog walks, surfing
Doughmore Bay is an idyllic 4.5km stretch of coast near the village of Doonbeg in Clare. The secluded bay is surrounded by towering sand dunes and the crashing waves of the Atlantic Ocean.
Doughmore Bay is a popular spot with surfers and walkers and it is common to see horses gallop along its sandy shores – Doughmore Bay is the perfect spot to indulge in an idyllic beach horse ride.
There is a small car park beside Doughmore Bay and the path leads to the beach.
Best beaches in Clare tip: the strong currents mean Doughmore Bay is not suitable for swimming. The nearby White Strand Beach is a better option if you want to swim.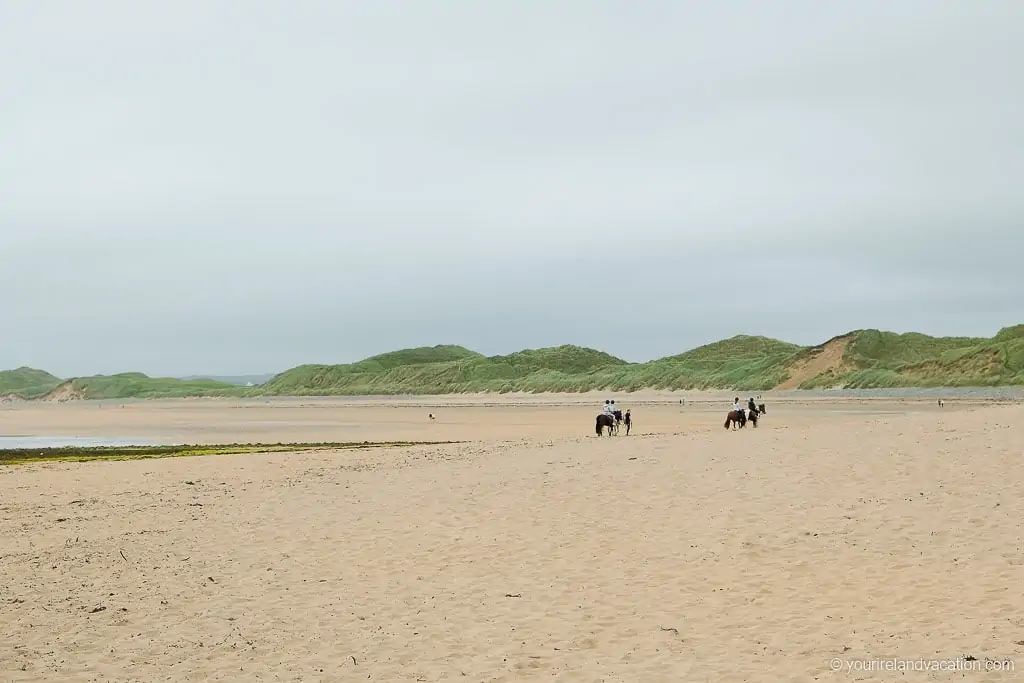 5 | Kilkee Beach
Best Clare beach for: retro beach town vibes, cliff walks, swimming holes
Kilkee Beach is a sandy crescent shaped beach located in the old school beach town of Kilkee. The beach itself is great for kids to have a splash around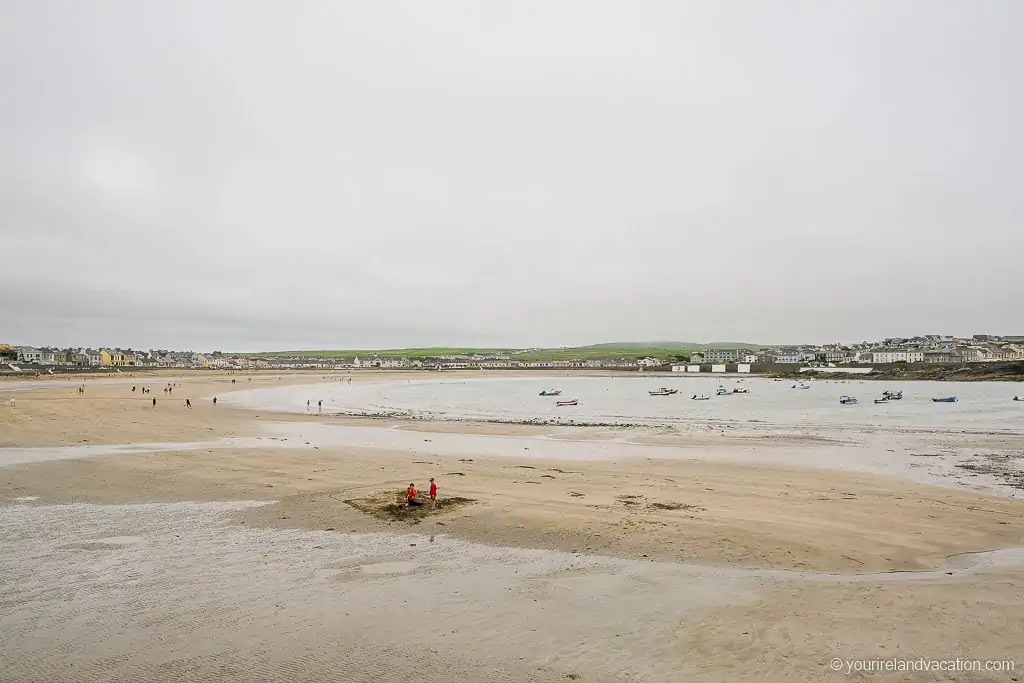 The nearby Kilkee Cliff Walk and Pollock swimming Holes are a Kilkee must. The cliff walk loops around the Kilkee Cliffs and you can choose between a 5km or a 8km route.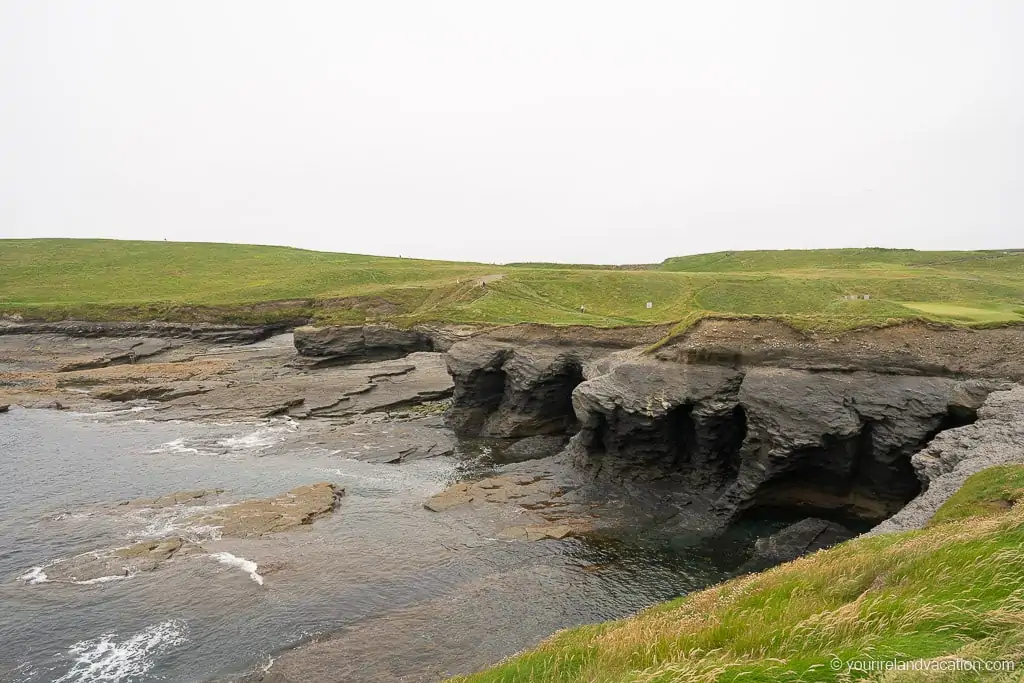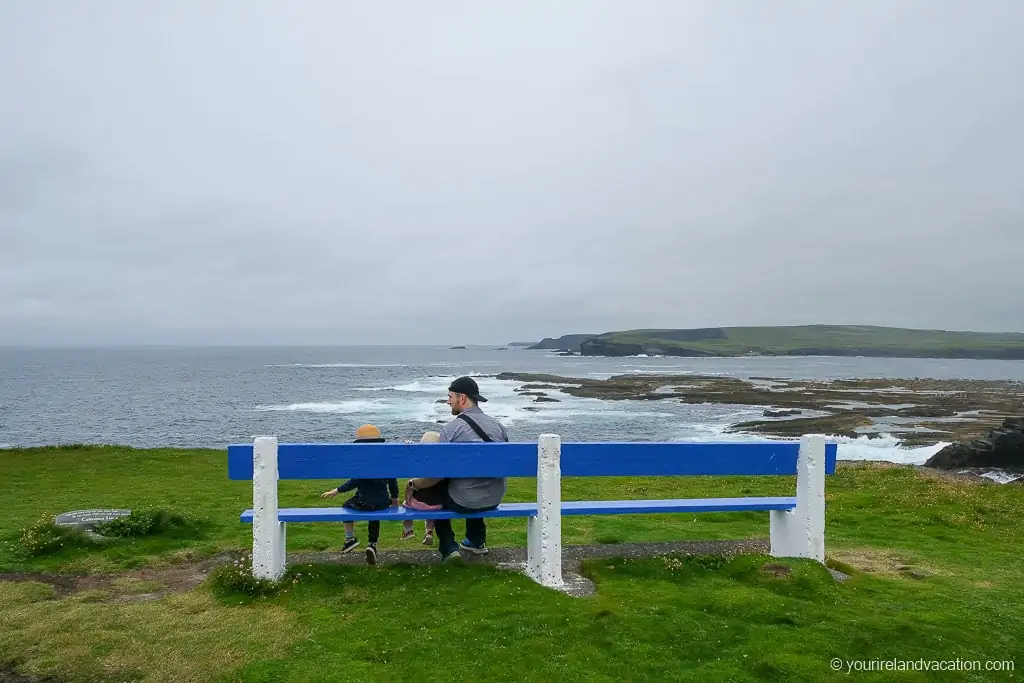 The Pollock Swimming Holes are another Kilkee gem – the group of three natural rock pools are popular swimming spots just off the coast at the start of the cliff walk.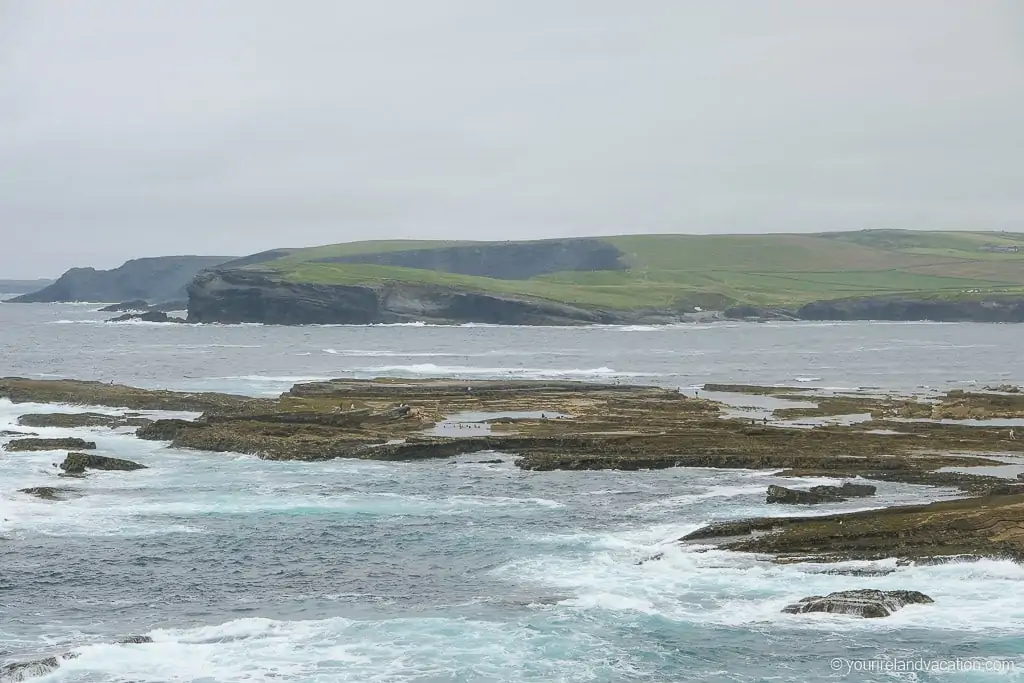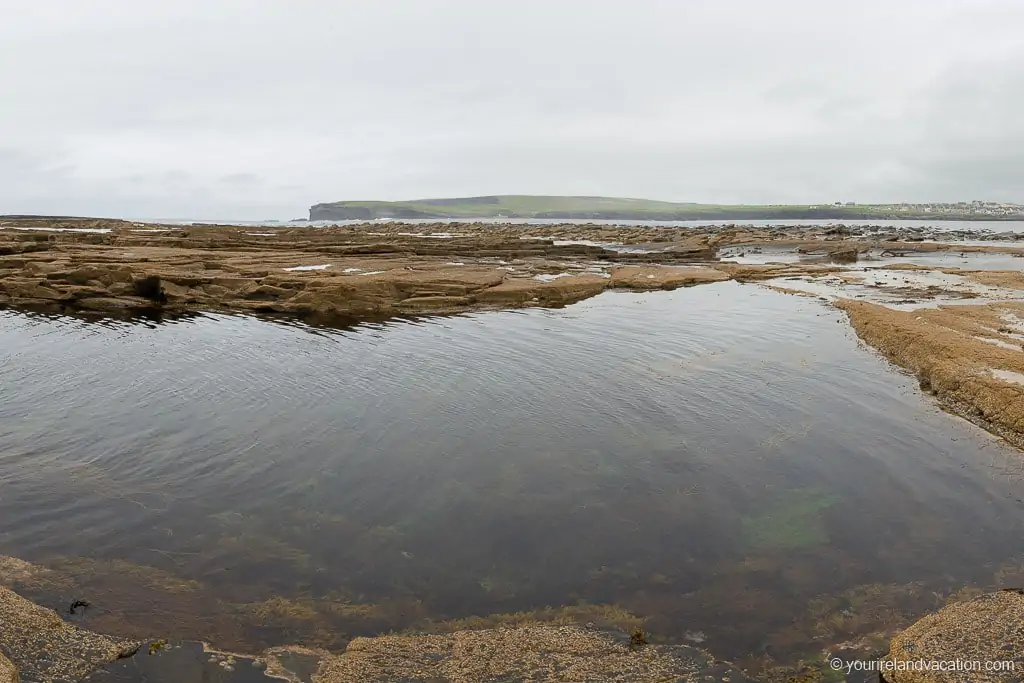 6 | Inisheer Green Coast Beach (Inish Oirr)
Best Clare Beach for: Island vibes
Best beaches in Clare tip: although the Aran Islands are part of County Galway it only takes a quick 15 minute ferry ride from Doolin to transport visitors to this idyllic beach on Inisheer (or Inish Oirr in Irish) – it's so lovely and easily accessible we just had to include it in our list of best beaches in Clare!
Inisheer is the smallest of the three Aran Islands and is a quick 15-minute boat ride from the seaside village of Doolin. Visiting the Aran Islands is one of our favorite things to do in Doolin. It's home to an incredible white sand beach known locally as An Trá, which means 'the beach' in Gaelic. The beach is located just steps from the ferry pier and, on a sunny day, its turquoise waters welcome visitors to the island.
There are lots of things to do in Inisheer and is a popular day trip from Clare. We loved spending a day exploring the island followed by an afternoon relaxing on this beautiful beach.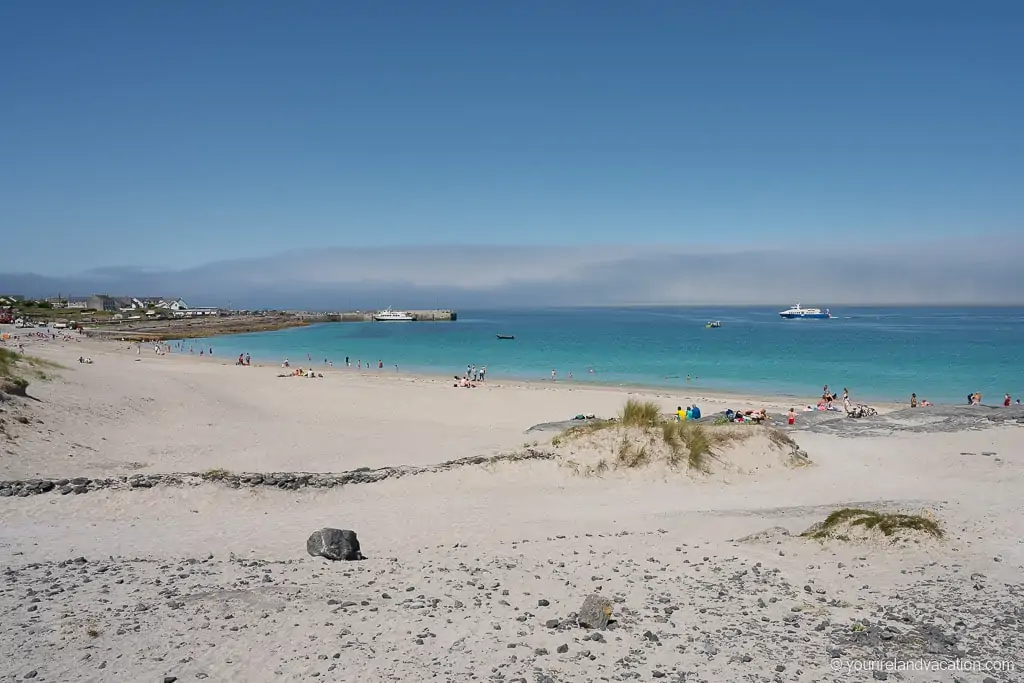 7 | Bishop's Quarter Beach
Bishop's Quarter Beach is located just 2km north of the popular Burren village of Ballyvaughan and is surrounded by views of the Burren and Galway Bay. Its location, a little of the beaten track yet close to the busy Ballyvaughan, makes it popular with locals and those staying in the area.
The long strand is predominantly stony but has some nice patches of sand and is manned by lifeguards in the summer months.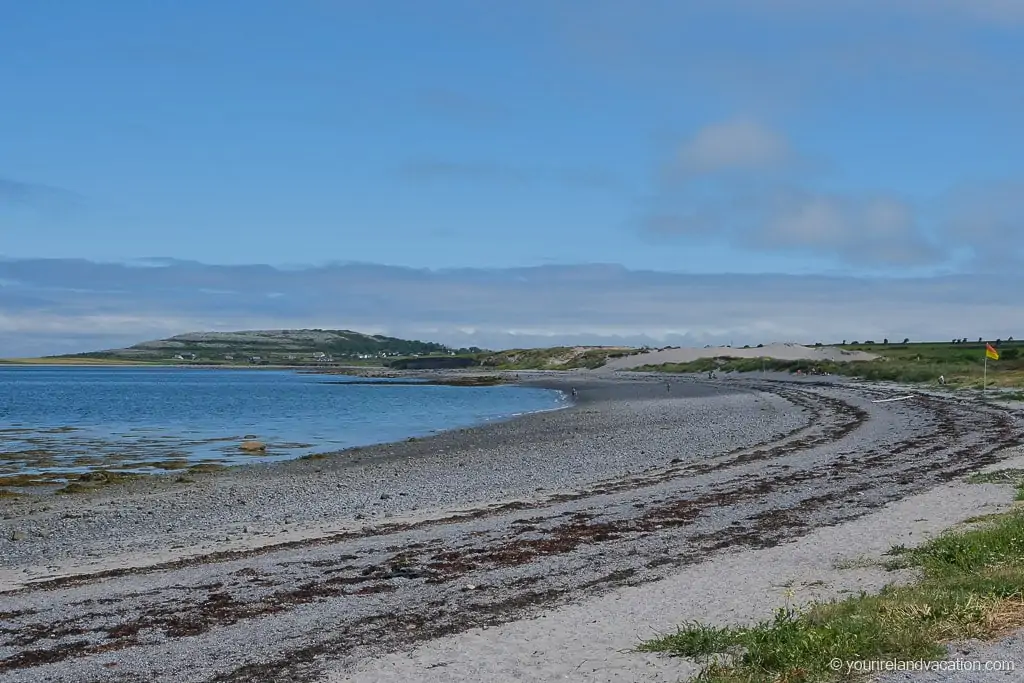 8 | Spanish Point
The long sandy beach at Spanish Point just outside of Milltown Malbay is one of the most popular beaches in Clare. The beach was named after the many Spanish who died when ships of the Spanish Armada were wrecked in a storm in 1588.
The blue flag beach is popular with families as the beach is perfect for kids.
After a day of chilling on the beach make sure to check out the adjacent Armada Hotel which overlooks the beach on the north end. The hotel serves great food and has incredible views of the ocean and Spanish Point Beach.
Best Beaches in Clare tip: Spanish Point is also a popular location for surfing however visitors are urged to be aware of common riptides that are present in the surf. There were many lifeguard signs warning of riptides on the day we visited Spanish Point.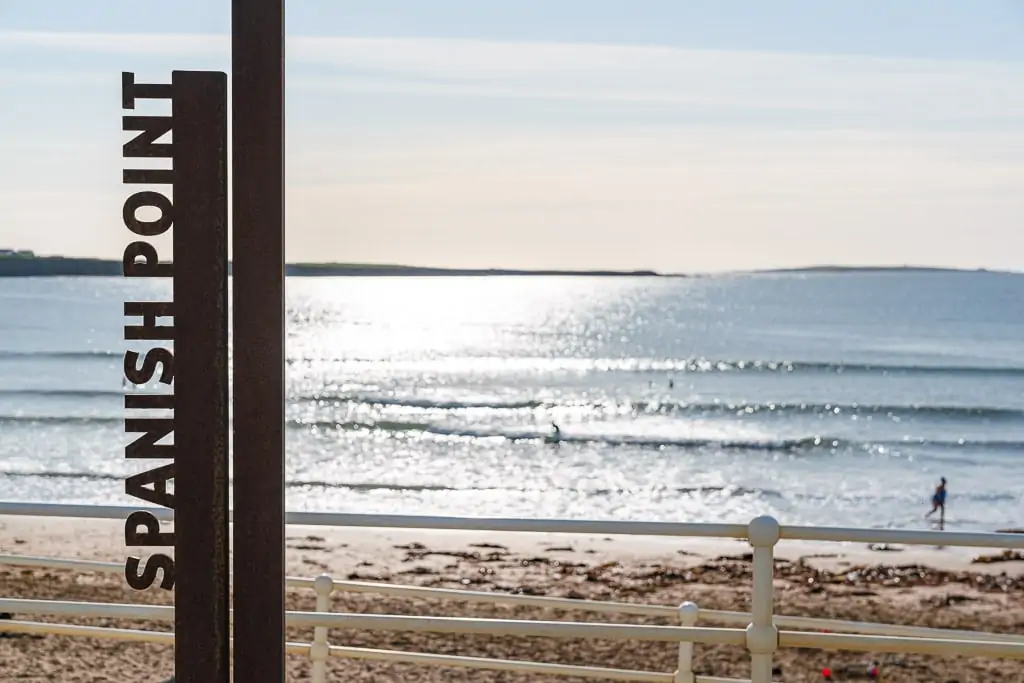 9 | Traught Beach
Traught Beach is a small detour off the coast road from Kinvara to Ballyvaughan and worth a stop on your trip through Clare. Located on the border of Clare and Galway, Traught Beach is a Wild Atlantic Way Discovery Point and a beautiful blue flag beach.
The sand is a seashell/sand mix and it's great on hot days as it doesn't get too hot. Traught Beach is perfect for families and there is a lifeguard on duty during the summer months.
The beach is also great for swimming as the water is shallow and the seafloor is sandy. One of the best parts of Traught Beach is that it rarely gets busy. This is likely due to the fact that it's a little off the beaten path.
There are public toilets located just off the beach and a small coffee dock selling snacks and drinks during the summer season.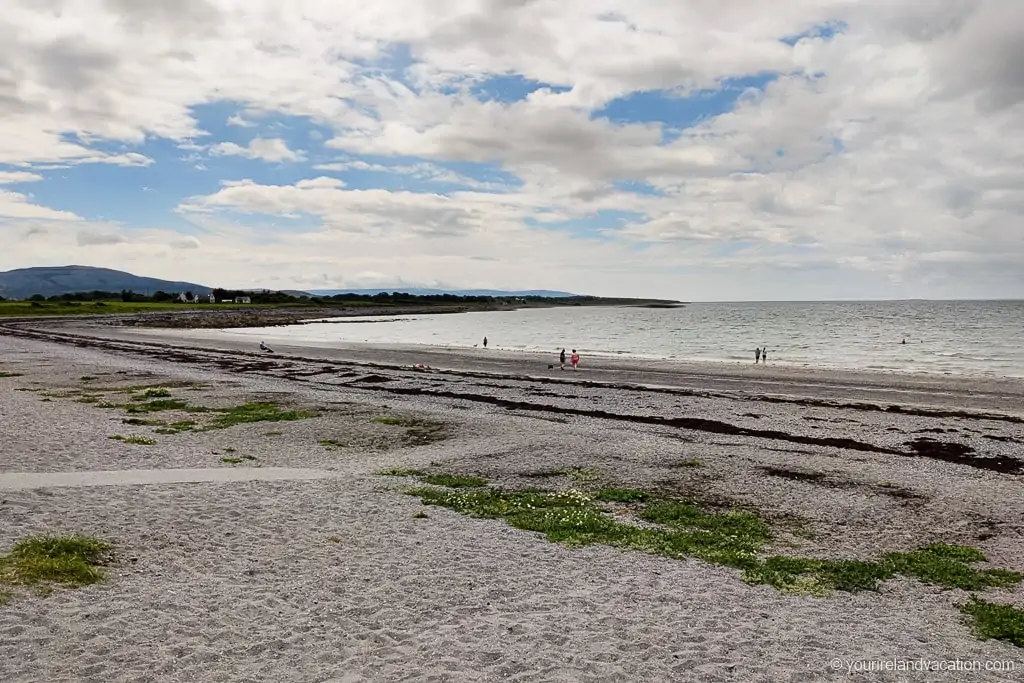 Are Beaches in Clare Dog Friendly?
Our family dog always accompanies us on our Clare travels so we wanted to include a note for dog owners: dogs are not allowed on some of Clare's most popular beaches between the hours of 11am and 6pm. This applies to many of the beaches mentioned in this article including Lahinch, Kilkee, Fanore, Spanish Point and Bishop's Quarter.