We've lived both in Ireland and abroad and have visited the Ireland many times as tourists. From our many trips we've managed to explore almost every corner of the country by rental car. We've rented cars in Ireland on many occasions and it has allowed us to see incredible sights and visit remote destinations around the country. Here are our best tips for renting a car in Ireland to help you on your journey!
Tips for Renting a Car in Ireland
Overall, we find driving in Ireland easy and convenient with a high standard of driving. We highly recommend renting a car in Ireland as it is the best way to explore the country!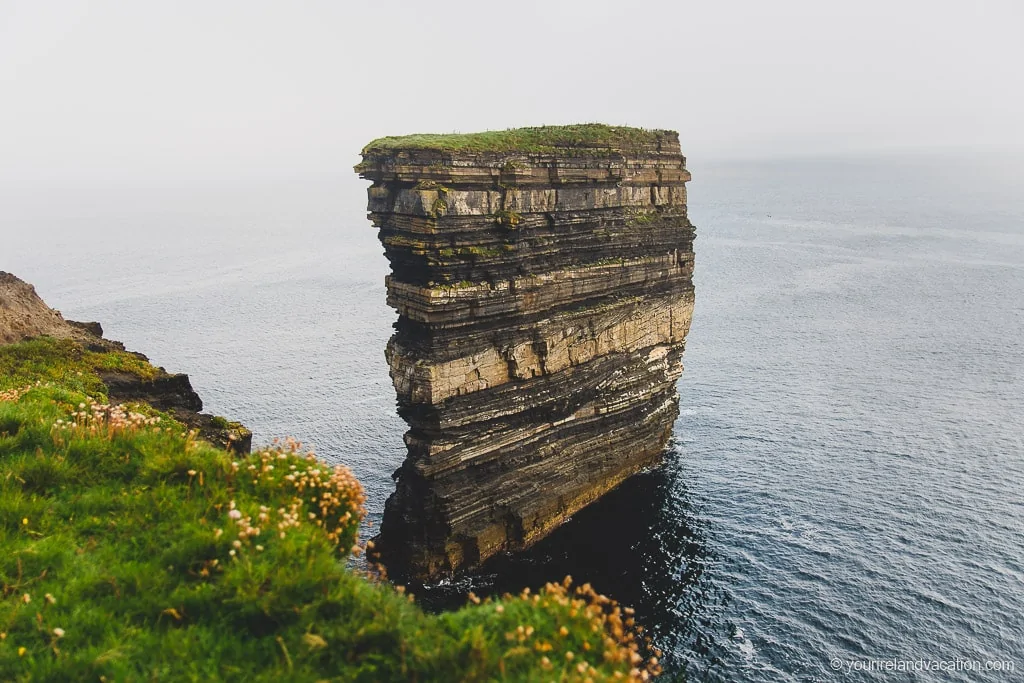 1 | Why Rent a Car in Ireland
We may be biased but Ireland is one of the most beautiful countries in the world! Exploring Ireland by car is one of the most exciting ways to explore the country. Although Ireland has a good public transport network, some of its most stunning sights require independent transport. Due to this, a rental car is the most flexible and cost-effective way to see the country. It's a safe and fun way to explore all that the Emerald Isle has to offer.
Renting a car in Ireland tip: from the quirky Dunquin Pier in Kerry to the majestic Downpatrick Head sea stack in Mayo, these sights are quite difficult to access by public transport but are all easily reached by renting a car in Ireland.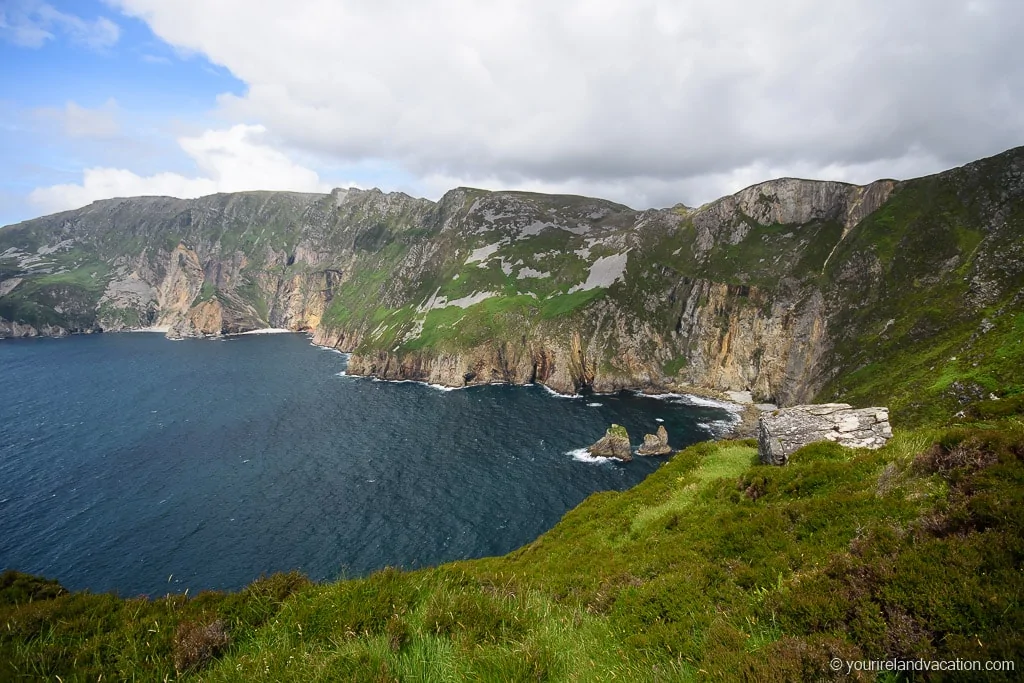 2 | Booking your rental car
Renting a car is a popular way to navigate the country and we definitely recommend booking your car well in advance to secure the best rate and ensure availability.
Renting a car in Ireland tip: many visitors, especially those from the US, prefer to rent an automatic car. As most rental cars in Ireland are manual, we recommend to reserve an automatic car well in advance.
We're huge fans of road trips and have driven rental cars in almost 50 countries so we have a lot of experience renting cars in foreign countries. We recommend using RentalCars.com to reserve your car. They have a great selection and very competitive prices – check prices here!
Book your car now with RentalCars.com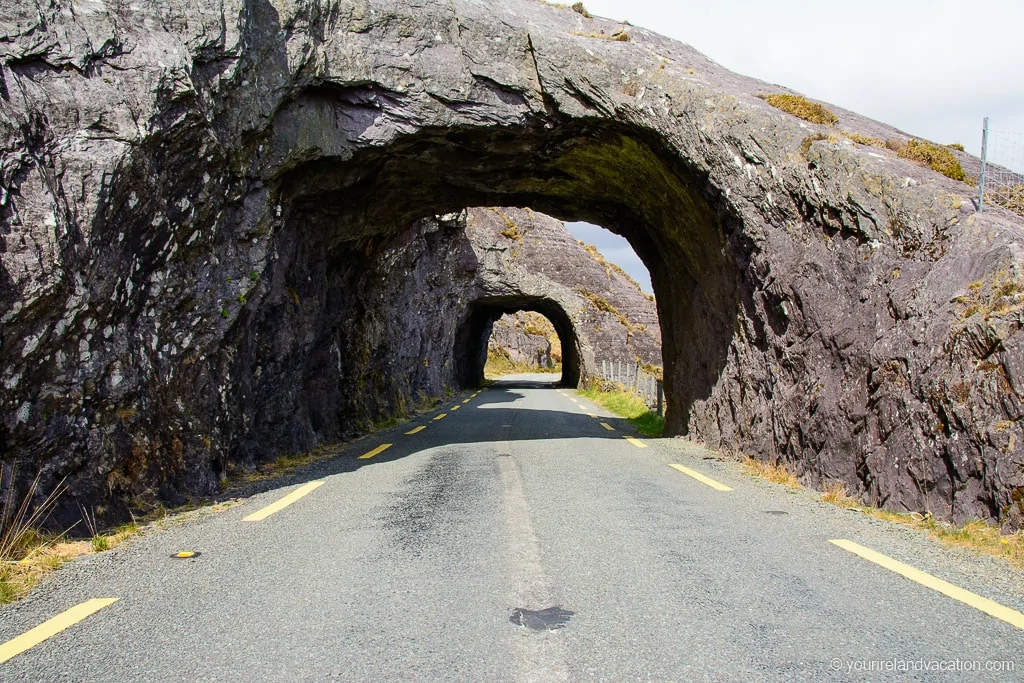 3 | Standard of Driving
Driving a rental car in Ireland is very safe. The standard of driving in Ireland is high and road safety is very important.
4 | Speed limits
Speed limits in Ireland are in Kilometres per hour (km/h).
Renting a Car in Ireland tip: The speed limit unit of measurement is especially important for any visitors from the USA who are used to speeds in miles per hours (m/h).
The main speed limits in Ireland are as follows:
120km/h (75 m/h) motorways
100 km/h (62 m/h) national routes (main roads)
80 km/h (50m/h) local and regional roads
All roads will have signage to reflect the applicable speed limits.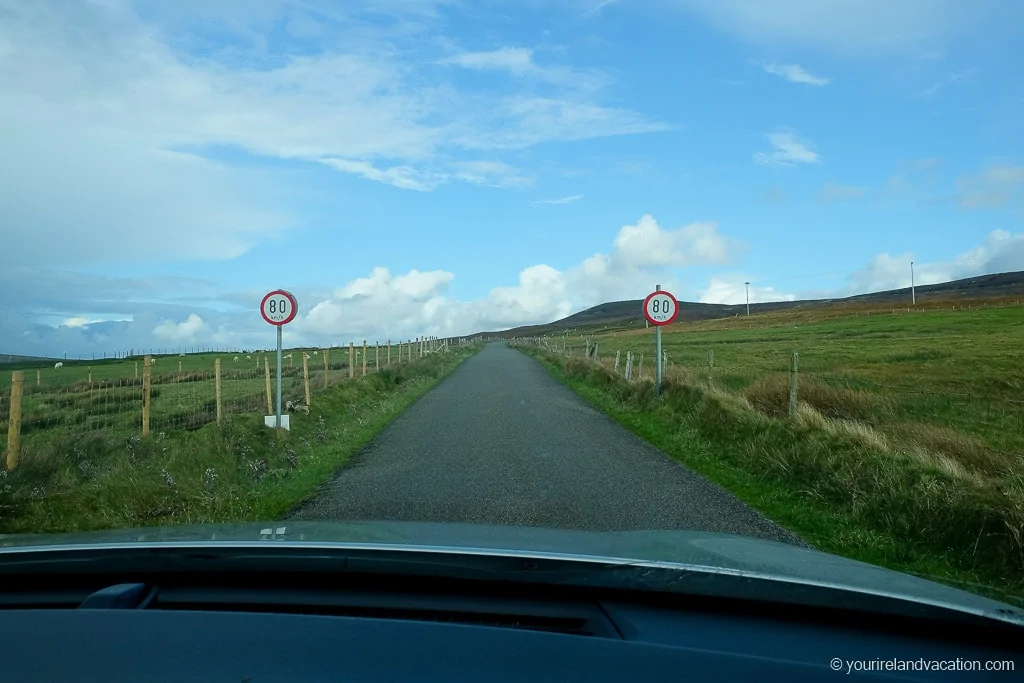 Speeds limits in towns are typically 40km/h or 50km/h so make sure to pay attention to the signs.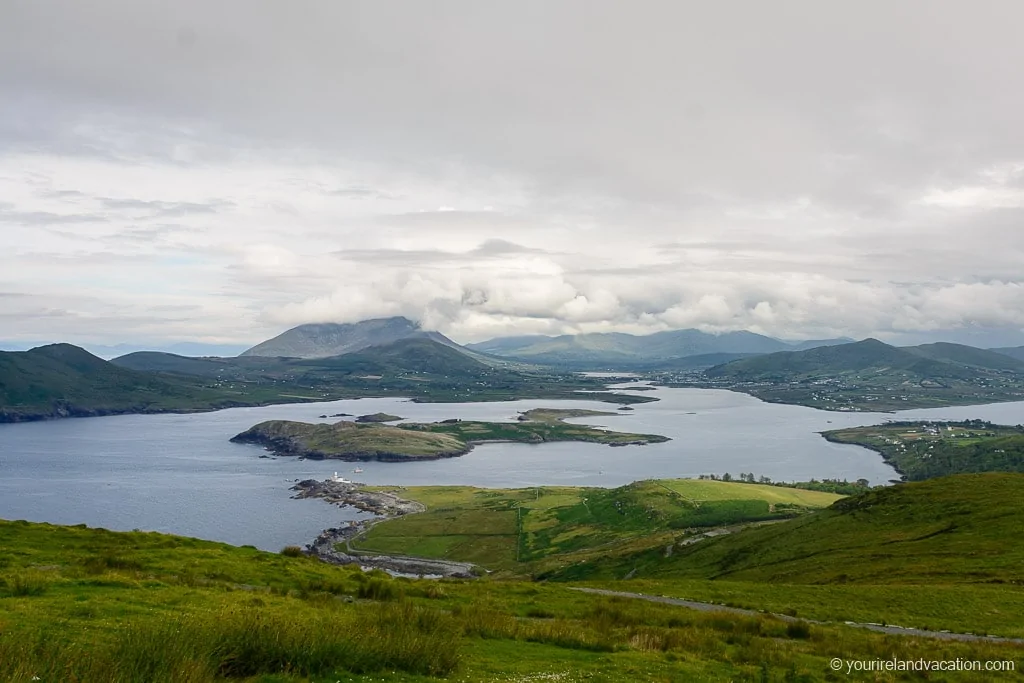 5 | Drive on the left-hand side of the road.
In Ireland you drive on the left hand side of the road, similar to the UK.
Renting a car in Ireland tip: having lived in both Ireland and the USA we find it easy to switch between right and left hand side driving. The hardest times are just after picking the rental car and the next morning when you are likely to start a longer journey. If it helps, put a post it note on the steering wheel so you are reminded when you start your journey!
6 | Can I drive my rental in Northern Ireland?
Renting a car in Ireland tip: the below reflects the current situation as of October 2019. The effect of Brexit and it's impact on driving between the two countries is uncertain
Ireland car rentals can be driven through both Ireland and Northern Ireland. There are no physical borders in place so it's likely you won't even notice when you switch between the two countries! However, as Northern Ireland is part of the UK its speed limits are noted in miles/ hour rather than km/h.
Renting a car in Ireland tip: make sure to inform your car rental company if you are travelling to Northern Ireland. An additional charge may apply.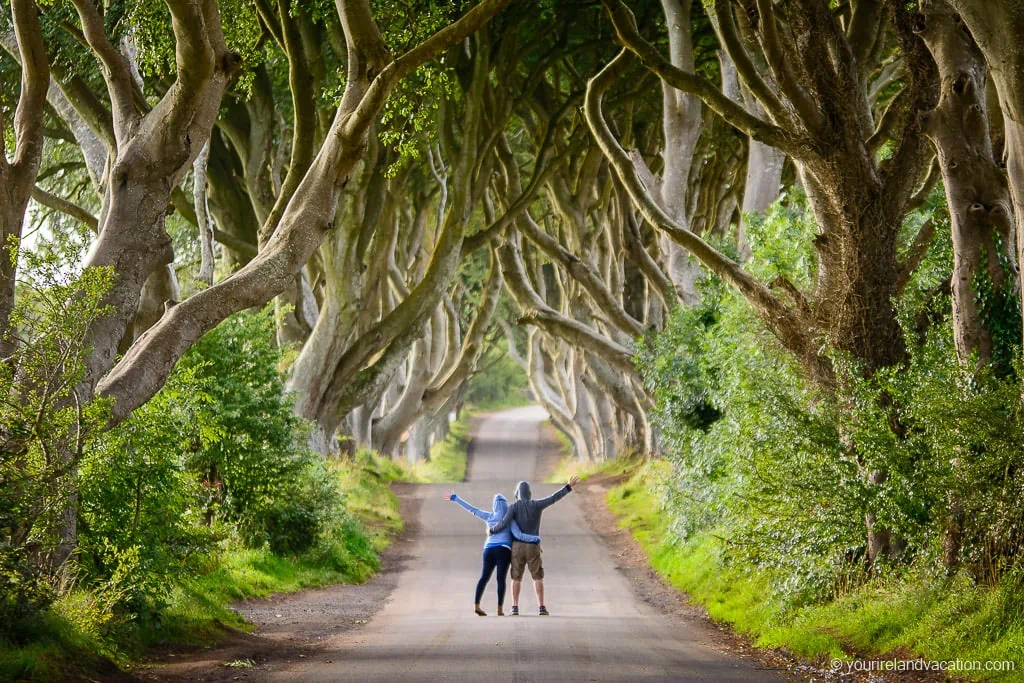 7 | Navigation
Google maps works great in Ireland and we recommend using it for all navigation. It will definitely save you time when navigating through the larger cities such as Dublin and Galway. The live traffic is quite useful and will highly traffic congestion and alternative routes.
Renting a Car in Ireland tip: We highly recommend renting a portable wifi device for mobile internet when visiting Ireland. One of the best providers is Wificandy, who rent unlimited data portable wifi units that you can pick up at Dublin airport, or have shipped directly to your accomodation – check prices now!
Book your portable wifi now (10% discount)
It's worth saving your Google maps for offline use before you drive to more remote areas in the country. This applies especially to places like Donegal, Galway and Kerry where phone reception can be sparse in some remote places.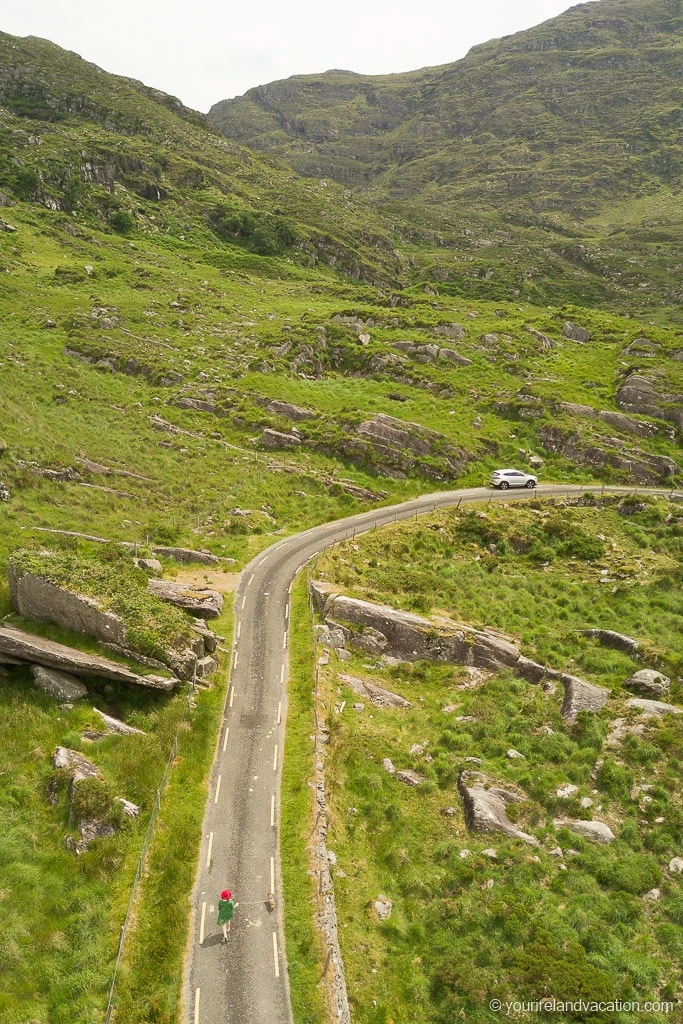 8 | Drive times
Google maps journey times will be relatively accurate on the main roads.
Once you leave the main roads for the smaller, meandering roads that Ireland is famous for your drive times will increase significantly. This is part of the charm and fun of exploring Ireland by car, so just allow an extra hour or two on longer drives so you don't have any surprises!
Renting a car in Ireland: the speed limits on secondary roads can be signposted at 100km/h but we don't advise actually trying to reach the speed limits. We often find ourselves travelling at 40km/h on these roads as they can be narrow with multiple bends.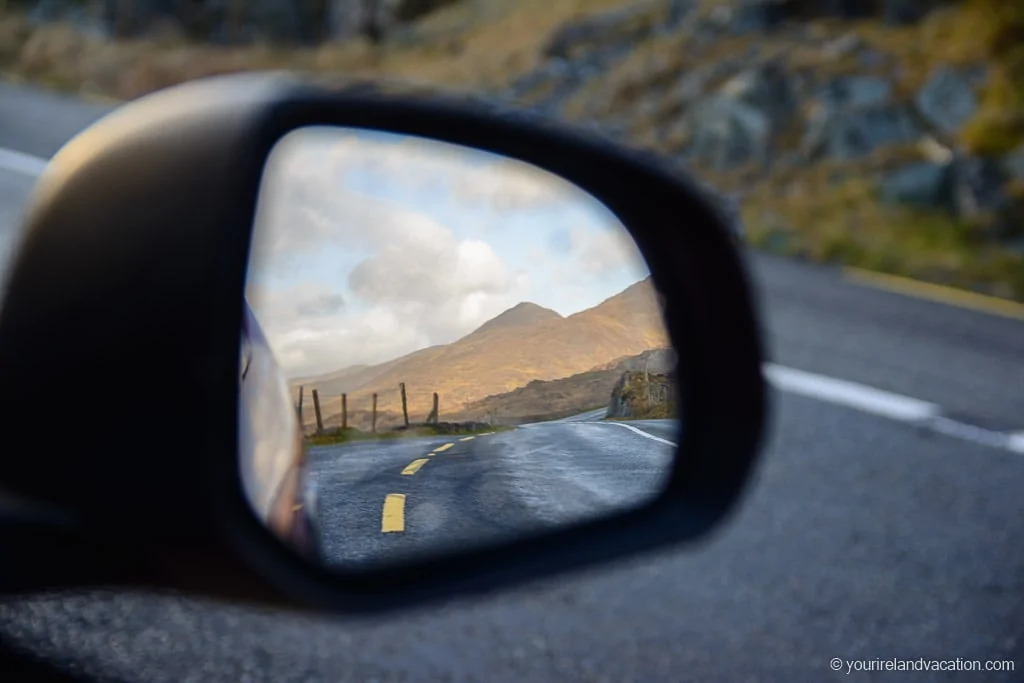 9 | Manual or Automatic
Most rental cars in Ireland are manual transmission. If you want to reserve an automatic car make sure to book well in advance – there are limited numbers and demand is high.
Renting a car in Ireland tip: due to less availability, automatic rental cars are often more expensive than manual cars. If you are more comfortable driving an automatic then pay the premium – it's a small price to pay for a more relaxing and enjoyable experience.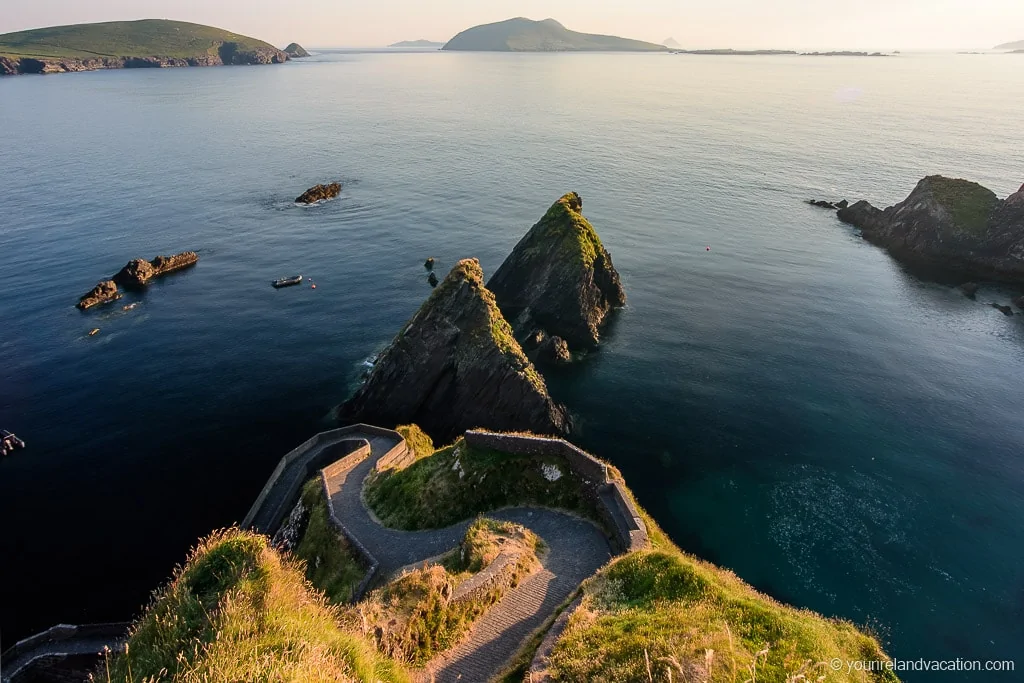 10 | Car Rental Insurance in Ireland
One of the most common complaints from visitors renting cars in Ireland are the additional insurance charges you can face when picking up or returning your rental in Ireland. This is mainly due to the mandatory additional insurance required in Ireland. Once you are aware of these costs, simply factor them into your rental car budget.
Car Rental Insurance in Ireland
Car rental insurance in Ireland is typically split between CDW and Super CDW:
Collision Damage Waiver (CDW): CDW is the minimum cover in Ireland and reduces the amount you owe in the event of an accident or damage to the car. CDW is often included in the rental price but an excess still remains – the excess is the maximum amount that you will have to pay in the event of an accident or damage to the car. It is often in the region of EUR 3,000 but the amount varies by rental company.
Super CDW: an additional charge. Super CDW removes any excess required outside of the basic CDW and means you will not have to pay anything further in the event of an accident or damage. Although it's expensive we recommend getting this cover in Ireland as the chances of minor damage to your vehicle is relatively high and most of the car rental companies are strict on checking damage. Super CDW may be covered on your credit card, see below.
Credit Card hold: If you do not purchase Super CDW a hold will be placed on your credit card to cover the excess amount. Make sure you have the funds in place.
Credit Card Insurance Coverage
Many tourists who rent cars around the world opt to exclude any optional CDW on rental cars and instead use the insurance coverage provided by their credit cards to cover the Super CDW liability.
If you plan to use your credit card to cover the excess insurance in Ireland you will need to:
Get written confirmation from your credit card/insurer that cover for Ireland will be in place. This usually needs to be within 14 days of the rental.
Have sufficient funds for a Credit Card hold: If you do not purchase Super CDW a hold will be placed on your credit card to cover the excess amount. Make sure you have the funds in place.
Pay an admin fee to the car rental company. The fee is typically in the region of 30 Euros.
Windscreen cover
This is an additional cover offered by rental car companies. We would usually not opt for this add-on when renting a car, however in Ireland we definitely recommend taking this add-on on your rental. Many roads in Ireland will have loose stone and asphalt and the chances of getting windscreen damage during your rental is also relatively high.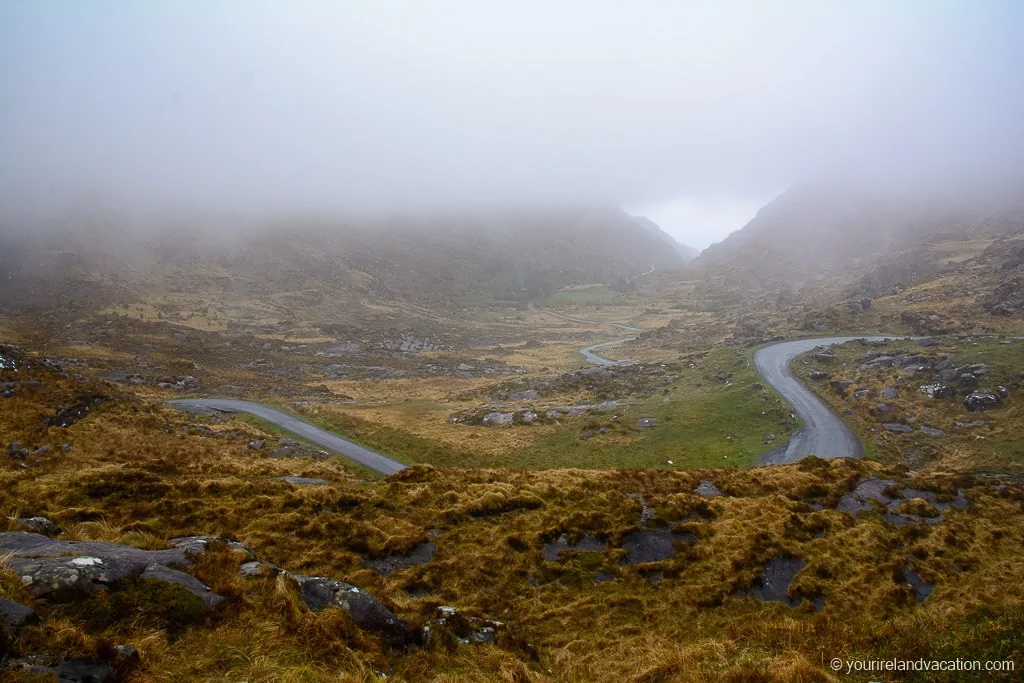 11 | Picking up your car
Regardless of what insurance option you choose, it's really important to check the car for any damage or issues before you check out the car from the rental car agency. This is essential as it can avoid any misunderstandings when you return the car.
Inspect the exterior of the car in it's entirety and take photos and video. We cannot emphasize this enough as it will clear up any misunderstandings with the rental car company when you return the company
Check the interior of the car and check that the fuel level matches the car documents.
Check the windscreens for and chips or damage
Check the car wheels and alloys for any damage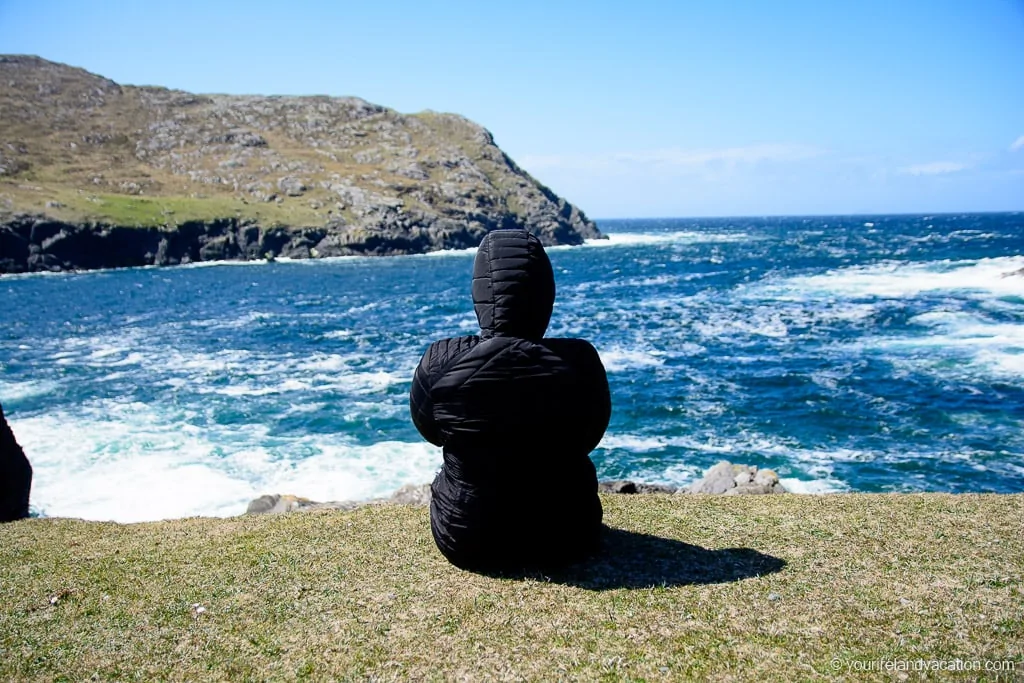 12 | Renting Eligibility
Most rental companies require drivers to be 21 and to have held their licence for at least one year. Some companies impose a surcharge for renters aged under 25.
13 | Unlimited mileage
We recommend choosing a car rental with unlimited mileage if you are planning on driving long distances.
14 | Prepay options
This is one of the best ways to save money on your car rental in Ireland. Most suppliers offer prepay rates on your car rental before you get to Ireland and these discounts can be significant. Be aware however that most prepay options are non-refundable, so check the refund options before you commit to prepaying.
Renting a car in Ireland tip: we only choose the prepay option when we have travel insurance in place for the trip. This means that, in some circumstances, we are covered for costs like prepaid car rental in the event of not making the trip.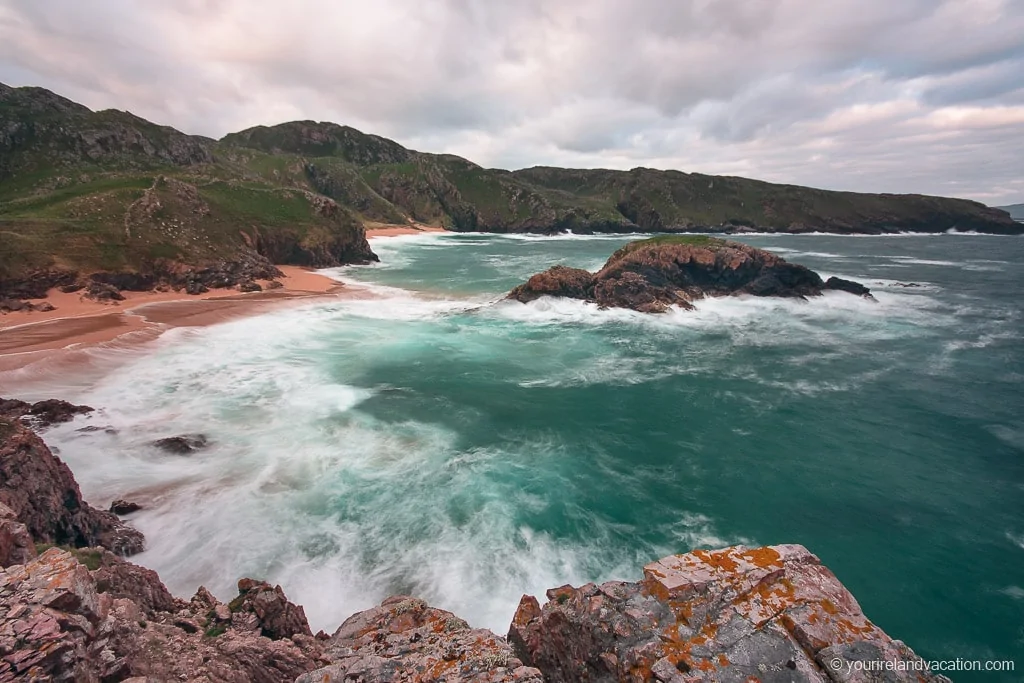 15 | Parking
Towns and cities
Parking in larger towns and cities typically operates on a paid basis. On-street parking is usually free in the evenings and weekends.
Renting a car in Ireland tip: All on-street parking is marked with signs indicating the times that paid parking operates – take time to ensure you read the signs correct as some city spaces may have multiple rules which apply at different times.
During busy peak times, you might find it easier to park in paid multi-story car parks. Multi story car parks are also a good overnight option.
Rural areas
Parking at tourist attractions around the country (outside of the cities) is generally free. There are some notable exceptions including the Cliffs of Moher.
As with any location around the globe, we recommend not leaving anything in your car in case of theft. Places that are particularly prone to break-ins include more remote car parks at hiking trails and some quieter tourist spots around Dublin.
Make sure your car is locked before you leave it. It's very easy to forget to lock a rental car that you are not used to using on a day to day basis.
Don't leave anything visible in the car and if possible don't leave anything in the boot/trunk.
If you must leave things in the trunk, don't open it in the open in the car park.
16 | Airport Location Service Charge
If you want to save a little on your car rental aim then check the price of reserving your car from a Dublin city location rather than at Dublin Airport. This will avoid paying the airport location service charge that most rental car companies charge. You'll need to decide if it's worth doing this as you'll need to factor in the cost of getting to and from the airport by taxi or bus.
When we've rented a car in Ireland we've found it's worth renting your car at the airport as you have more flexibility. It allows you to day trip from Dublin and also leave the city early to explore the country, instead of waiting for a rental location to open.
Rent your car at Dublin Airport now
Renting a car in Ireland tip: if you are planning on spending some time in Dublin you will not need a rental during this time. Public transport is excellent and walking is a great way to get around.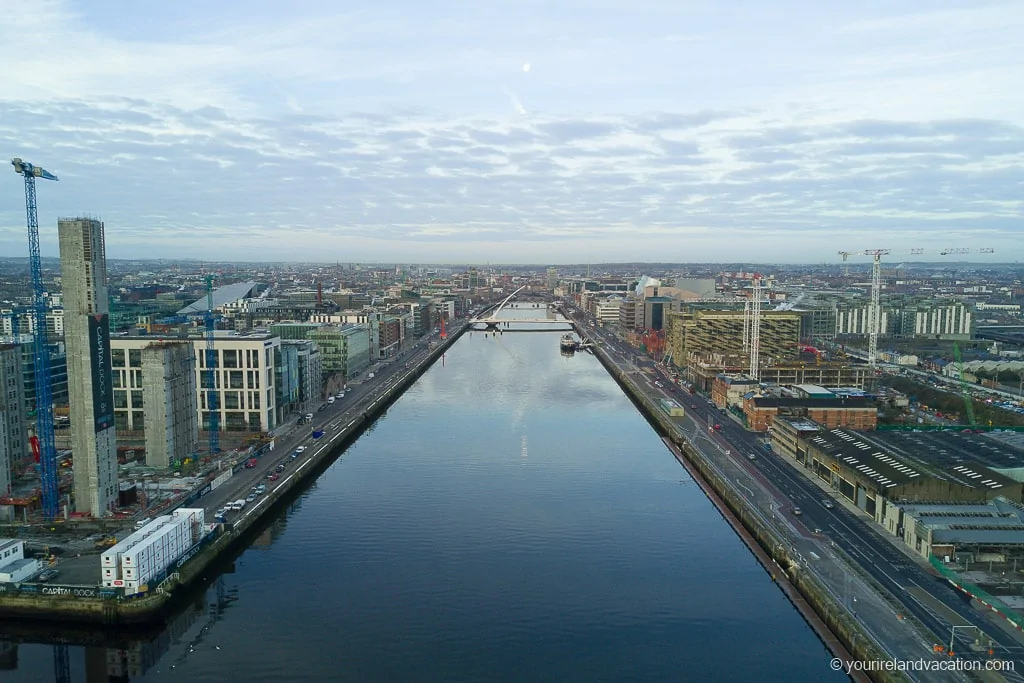 17 | Fuel
Rental cars in Ireland typically use petrol or diesel fuel. Try and rent a diesel car if you are planning lots of miles – petrol is more expensive and a diesel car will reduce your fuel bill considerably.
There are lots of garages and all accept major credit cards. The stations are all self-service and most stations will require pre-payment for fuel especially after certain times e.g. late in the evening.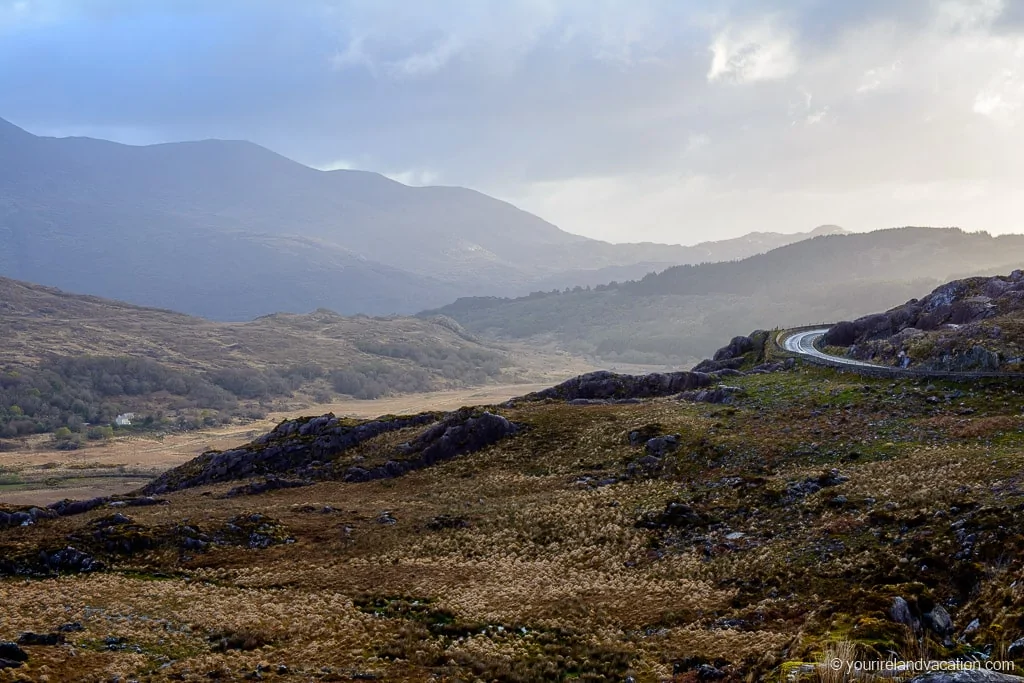 18 | Tolls
Ireland has a relatively good motorway network which is funded by tolled motorways. You can pay for most of the tolls in cash – just make sure to take the lane with the cash options. The right hand lane is generally a fast pass lane.
Renting a Car in Ireland Tip: M50 Motorway is a tollbooth free toll road which runs around the outskirts of Dublin and most visitors picking up a car at Dublin airport will likely pass through it at least once during their trip. The toll registers your car plate automatically as you drive through and is billed to your car rental company. As a result most rental car companies advise you not to pay the toll as it will automatically be charged to your rental car when you return. Check this when you pick-up the car as you may need to pay it on-line yourself if you company doesn't do this automatically.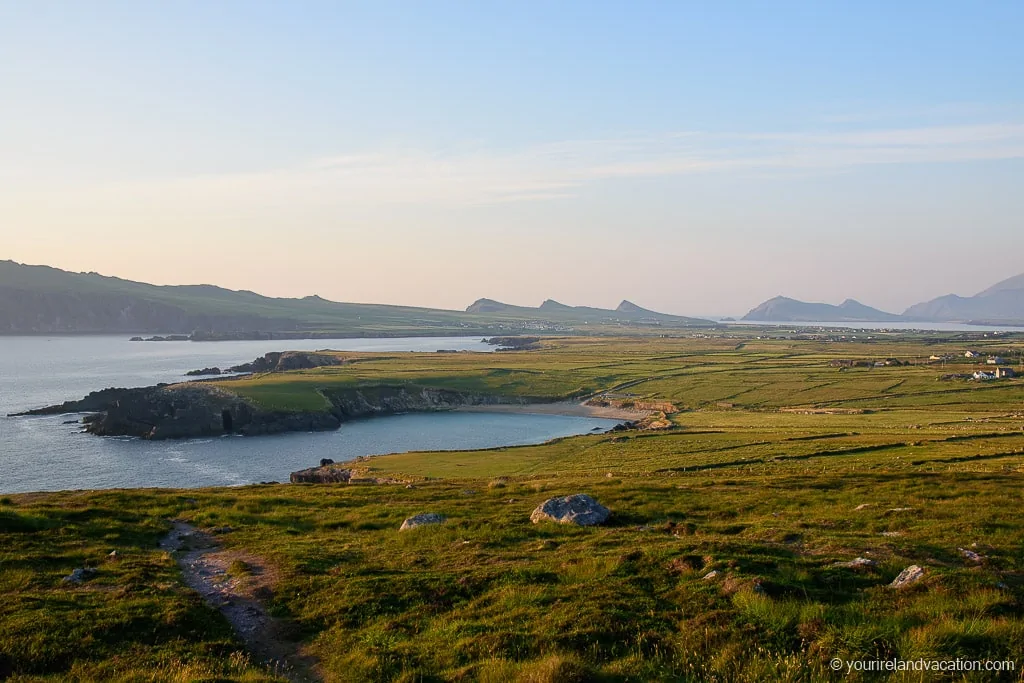 19 | Narrow Roads and Animals
Two things which must get a mention when renting a car in Ireland are the notorious narrow roads and the frequent appearances of sheep!
On narrow roads make sure to slow down and be prepared to pull in to a lay by to let an approaching car pass. At times you will pass a car with your side mirrors almost touching!
Sheep are a common cause of traffic jams in Ireland! In more remote locations it's common to see sheep sitting on the road. They usually move when a car approaches but, if not, a beep of the horn will often speed up the process!